The sight of debris in your fireplace can be pretty unnerving, but it's usually nothing to be concerned about – it may just be your chimney reminding you it's time for a sweep!
Chances are, it could be down to Mother Nature, during heavy rain or strong winds, this could result in debris falling down your chimney, into the fireplace.
The part of your chimney that's most susceptible to the weather is the part that sits above the roofline. Because it's the most exposed element, it gets hit first with the rain, wind and snow. Add to that the mix of temperatures the flue contends with each year, and it's no wonder some of the chimneys occasionally gives way.‍‍
Even thunderclaps can cause parts of your chimney to fall off and end up in the grate. Therefore, if you've noticed debris in your fire and the weather has been particularly horrendous recently, that might be the cause.
Chimneys can be very old?
If your home has a chimney that's over 55 years old, the inner wall will most likely have been lined and rendered with a lime mortar mix. The diameter of the chimney means it's likely never been repaired since the day it was built.
The result? Over time, that old render (pargetting) will become dry and begin to crumble, leaving it with only one choice: loosen and fall into the hearth area beneath.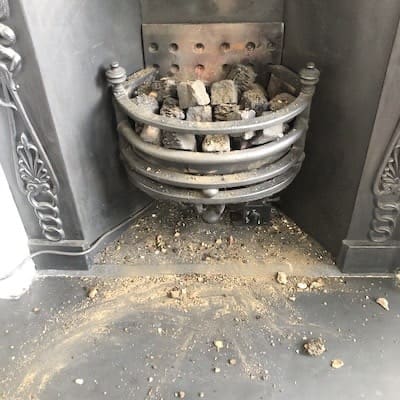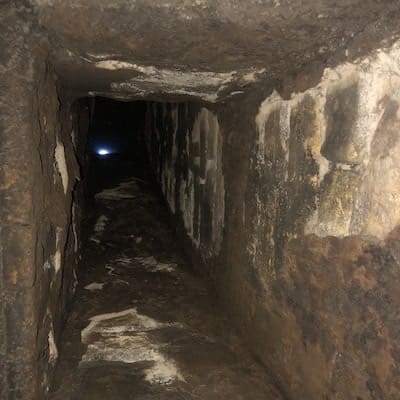 What else could it be?
The sight of debris in your fireplace may not be the result of old age or Mother Nature; it could simply need a decent clean.
A sweep will help clear any debris that has collected on the bends within the flue‍, but it won't stop more pargetting becoming loose and falling in bad weather, if the chimney is used for gas or disused, bits will continue to fall from time to time.
A chimney sweep includes –
Full visual inspection – pot; stack; hearth; ventilation; fireplace/ stove fitting; lintel.
The fireplace area will be covered with protective dust sheets that we provide.
The chimney will be swept in accordance with the 'Guild of Master Chimney Sweeps' code of practice and the industry-standard.
Examine debris.
A draught test will be carried out using a smoke pellet*.
Advice on fireplace use and fuels.
Check smoke and CO alarms are present and positioned correctly.
Report findings.
A 'Guild of Master Chimney Sweeps' sweeping and servicing certificate will be issued.
This service takes approximately 45 minutes per flue.