Your chimney is quite unlike anything else in your house. It sits there, out of view and never seems to encroach on your daily life. Indeed, it shouldn't. Your chimney's main role is to allow dangerous combustion gases to evacuate your home – the chimney has a very important job but most of it cannot be seen. Many chimneys can be hundreds of years old and the property would have undergone many renovations but no one has checked the inside of the chimney.
Has pipework been passed through the chimney breast?
Has an electrical socket been fitted on the chimney breast and a cable passed through?
Has someone fitted a waste stack for a toilet into the chimney?……….yes, we've seen that too 🤢.
Has a loft conversion caused any damage to the chimney?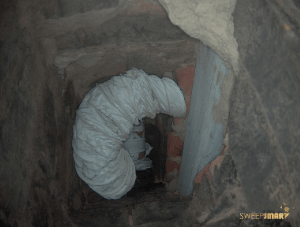 It's not possible to answer any of these questions by just sweeping the chimney, sometimes we need to take a look.
Level 1 Chimney Inspection includes –
 Full visual inspection – pot; stack; hearth; ventilation; fireplace/ stove fitting; lintel.
The fireplace area will be covered with protective dust sheets that we provide.
The chimney will be swept and inspected in accordance with the 'Guild of Master Chimney
Sweeps' code of practice and the industry standard.
CCTV chimney inspection.
Check smoke and CO alarms are present and positioned correctly.
Smoke Test 2 – Evacuation Test
A 'Guild of Master Chimney Sweeps' insurance certificate will be issued. (if the appliance/flue is safe to use)
A detailed report will be issued. (if the flue requires remedial work)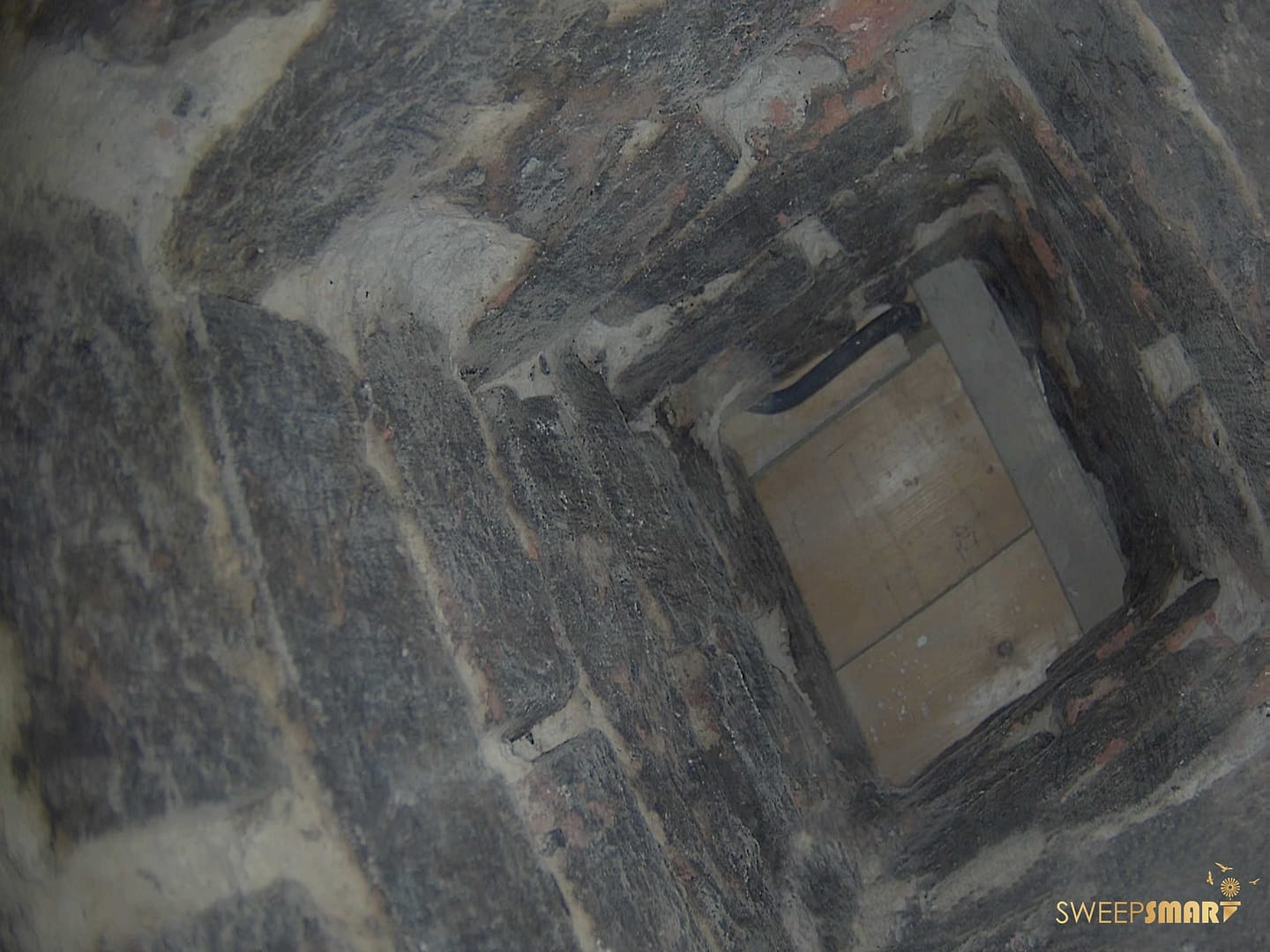 Reasons for a Level 1 Inspection
New homeowner – If you have just moved into a property with an existing fireplace, it's important to have the fireplace and chimney inspected. Even if the previous owners were using the fire, that doesn't mean that there isn't a potentially dangerous accident waiting to happen. Home-buyer reports do not inspect the fireplace or inside of a chimney.
Having the chimney lined – before a liner is fitted the chimney must be swept. It's also important to check for any combustible material and ensure there are no obstructions that might prevent a new liner from being fitted.
Experiencing problems – If the chimney has started to smoke back or it's not burning as it once was, we can inspect the flue to find out what is causing poor performance.
If you have not used the chimney in a long time – if you have previously used the fireplace with no issues but it's been a while, it's a good idea to inspect the condition to ensure that it's still safe.
Blockage – Your chimney has a blockage that sweeping cannot remove, a level 1 inspection allows us to identify the blockage and advise on the most appropriate method to remove it.
Any faults that are noted on the inspection will be recorded and sent to you along with a full report, this will allow you to obtain quotes for any remedial work required.
In some cases a Level 2 Inspection may be required – read here what is involved in a Level 2 Inspection
If you have any questions or would like to make an appointment, please do not hesitate to contact us.
Would you like to make a booking or have a query? Get in touch below 👇